February makes us think of love and loving the hearts of those dearest to us, which makes it perfect that it's Heart Health month! So while our kids enjoy their Valentines this season, we can also teach them to build heart healthy habits to benefit them for years to come. Here are a few ideas to help you teach heart healthy choices for your kids this month:
4 Heart Healthy Choices for Kids
1. Get Active
The AHA recommends that everyone get at least 60 minutes of moderate to vigorous physical activity every day. We know this can seem like a difficult thing to incorporate into our family's already busy schedule. Try some of these ideas to make it feel less like a chore and more like part of the routine:
Break up the time -

Get physical in little bursts that fit into the day.
Dance Party! -

Put on the music and dance away the blues of the morning routine or the bedtime routine, or the naptime routine! 10 minutes of moving to the beat will make everyone feel better.
Play catch -

 Even very little kiddos can understand the concept of throwing, kicking or rolling a ball back and forth to each other. Let the game evolve appropriately for your child's age.
Get outside -

Walk, bike, hike, run, explore!
Clean up -

Chores can be physical and not only get things cleaned up, instilling a good work ethic, but sweeping the kitchen or patio or cleaning the garage can really get your heart going!
2. Taste the Rainbow
Nature provides a bounty of colorful and heart healthy foods. Encourage your kids to try foods in all colors. Adding bright, flavorful options into your daily meal plans will help the kids explore new foods and help create a lifetime of healthy food choices. Need ideas? Here are a few:
Red -

Tomatoes and pomegranates
Orange -

Mandarins and other citrus fruits and carrots
Yellow -

Potatoes and extra virgin olive oil
Green -

Avocados, edamame beans, pea pods, broccoli, kale and spinach
Purple -

Cabbage, blackberries and grapes
3. Watch What's in Your Cup
Staying hydrated is an important part of taking care of our bodies, but so many of our drink options can actually do us more harm than good. Water is always the best choice when it comes to quenching our thirst. Add more water into your daily routine and keep sugary, sweet beverages to a minimum, saving them for special occasions. The Harvard Chan School of Public Health offers this visual as a guideline: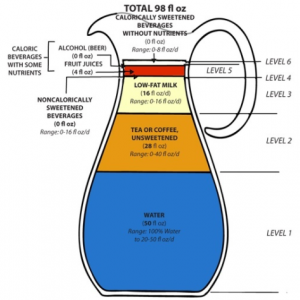 4. Lead by Example
Kids like you to show them the best way to do anything. More than your words will leave an impact, watching your choices will lead them to make choices that feel comfortable. If it's good for Mom and Dad, it must be good them too!
February gives us plenty of reasons to focus on our hearts. Adopting some of these choices into your family's daily routine sets your kids on a path for a lifetime of heart health and self love. And most of all, remember that kids learn by the example. Show them how to love their heart and their life!
At Fusion Early Learning Preschool, our goal is to help each child become a strong and healthy learner in all areas of life! Contact us to learn more about our programs or to schedule a tour: (530) 923-7208.